Crantock Beach
Surf Hire | Ice Cream | Drinks | Beach Hire
Crantock Beach Is on the South side of Newquay
at the mouth of the Gannel Estuary.
The Gannel estuary splits Newquay from the village of Crantock.
The beach offers over a mile of golden sands sandwiched between sand dunes, the sea and the tidal river.
Crantock is a popular family beach with plenty of rock pools and caves to explore at low tide.
"Such a beautiful area and so different from the busier main beaches in Newquay."
Location
The beach is accessible through Crantock village (follow signs for beach), from West Pentire and also East Pentire (Newquay) via the steps at Fern Pit.
There is a National Trust Car Park at the bottom of the village road and the charge is around £4.00 for the day (free to members) and also a private overflow CP.
There is a flat route onto the beach from the trust car park.
There are also pay and display car parks at the end of both Pentire headlands.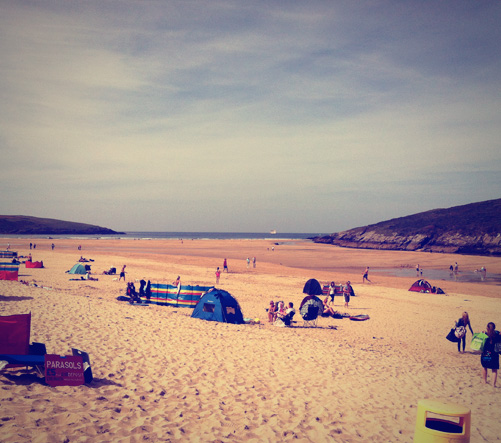 Newquay End of The Beach
At the Newquay end of the beach there is a kiosk that sells a range of:
ice creams

hot & cold drinks

snacks and sandwiches (peak times only).
You can also hire:
windbreaks

deckchairs

parasols and sun beds from the kiosk.
The kiosk is generally open every day during the season between 10am and 5.30pm weather permitting.
Located next to the Ice Cream Kiosk is Crantock Surf Hire (click for more) where you can also hire:
surfboards
bodyboards
wetsuits and boots.
Crantock has an RNLI Beach Lifeguard service that operates from May through until September.
There are various signs around the beach with regard to where you can swim, dangerous areas and times of tides.
Swimming and bodyboarding is allowed between the red and yellow flags on the main beach with all surf craft allowed between the black and white chequered flags.
If the red flag is flying then there is strictly no bathing at all.
In the river due to strong currents there is strictly no bathing apart from when the tide is out (when the footbridge is in use).
There is a roped off area marked by orange buoys opposite the ferry boathouse where you can swim whilst the tide is in
(whilst ferry is running) but extreme caution should be taken whilst doing so due to strong currents and deep water.
Crantock Surf Hire Prices
Crantock Surf Hire is located next to the Ice Cream Kiosk at the Newquay end of the beach. Accessible through the cut through to the right hand corner of the National Trust Car Park.
Open from 10am until 5.30pm weather permitting, you can hire a range of Swell & Bullit surf boards and body boards, wetsuits, wetsuit boats, wet shoes, parasols, sun beds, deck chairs and wind breaks.
Surf Gear Prices
| Item | Day | 3 Day | 7 Day |
| --- | --- | --- | --- |
| Surf Board* | £10 | £25 | £55 |
| Body Board* | £6 | £14 | £30 |
| Wetsuit* | £5 | £11 | £20 |
| Wetsuit Boots | £5 | £7 | £15 |
| Wet Shoes | £2 | N/A | N/A |
*These items require a secure deposit to be left whilst you hire the item. This can be anything like a credit card, driving licence, passport, car keys, caravan keys etc which will be stored safely until you return the item.
A small returnable cash deposit is required on boots & shoes.
Beach Gear Prices
| Item | Price | + Deposit (returned at end of day) |
| --- | --- | --- |
| Parasol | £5 | £10 |
| Sun Bed | £5 | £1 |
| Wind Break | £4 | £2 |
| Deck Chair | £3 | £1 |
All hired items are to be returned by 5.30pm unless it is a long term hire in which case you can keep the item for the hire period or let us look after it overnight.